4.1 Origin of drugs in current use: the cyclosporine story (contributed by Harriet Upton, 2001)
Abstract
Discovery of cyclosporine in 1971 began a new era in immunopharmacology. It was the first immunosuppressive drug that allowed selective immunoregulation of T cells without excessive toxicity. Cyclosporine was isolated from the fungus Tolypocladium inflatum. Cyclosporine was first investigated as an anti-fungal antibiotic but its spectrum was too narrow to be of any clinical use. J. F. Borel discovered its immunosuppressive activity in 1976. This led to further investigations into its properties involving further immunological tests and investigations into its structure and synthesis. Cyclosporine has unwanted side effects, notably nephrotoxicity. Animal testing showed cyclosporin to be sufficiently non-toxic to begin clinical trials. These initially failed due to poor absorption of the drug. Once this had been overcome, results were encouraging enough for cyclosporine to be licensed for use in clinical practice. There is some controversy between Borel and other workers over priority in the discovery of cyclosporine and its pre-clinical development, which is examined in this review. Cyclosporine changed the face of transplantation. It decreased morbidity and enabled the routine transplantation of organs that until then had only been done experimentally.
Introduction
We all know the story about the discovery of Penicillin, but what about other drugs now in common use? This article investigates the events that led to the discovery of cyclosporine [initially known as cyclosporin A, now known as ciclosporine in Europe and cyclosporine in the USA], and the developments that resulted from its introduction into clinical practice.
Naming cyclosporine
Cyclosporine is used clinically to suppress the immune response in transplant patients and prevent organ rejection. You are likely to find this drug given any of three nonproprietary names:
cyclosporine was assigned by the United States Adopted Names Council, which is co-sponsored by the American Medical Association (AMA), the United States Pharmacopeial Convention (USP), and the American Pharmacists Association (APhA).
Cyclosporin (without the terminal 'e') is a British Approved Name (BAN) as defined in the British Pharmacopoeia (BP) and is used in many countries around the world, especially those of the Commonwealth of Nations.
European Union legislation requiring harmonisation of the BP with the European Pharmacopoeia (EP) has resulted in use of the name ciclosporin in the UK. This is an International Nonproprietary Name (INN) designated by the World Health Organisation (WHO) and with the exception of adrenaline/epinephrine, BANs are now the same as the INNs.
Of course, there are even more proprietary names!
Irene
A man who put a soil sample in a plastic bag saved the life of Irene, a vivacious student, who, at the age of 18 years was diagnosed with acute myeloblastic leukaemia. It progressed rapidly and severely. Chemotherapy might offer her a brief remission but would inevitably end in a fatal relapse. However Irene had two pieces of good fortune. Firstly, she was immunonologically (HLA) compatible with her younger sister. Secondly cyclosporine had been discovered a few years previously. Doctors expressed concern about cyclosporine toxicity and about likely development of the devastating host-versus-graft disease. Despite their anxieties there was no other hope for Irene and a bone marrow transplant was undertaken. Irene developed severe renal complications. Little was known about cyclosporine nephrotoxicity and she was probably given excessively high doses. But thanks to cyclosporine she only suffered from a mild host-versus-graft reaction and was able to leave hospital to live a normal life [1].
What is cyclosporine and what are its uses?
Today organ and bone marrow transplants are routinely performed. Cyclosporine is still used to treat the rejection reactions that occur when a foreign organ is attacked by the body's immune system. Cyclosporine is a fungal peptide, isolated from Tolypocladium inflatum Gams. It was the first immunosuppressant that acted selectively to suppress T-cell immunity.
Cyclosporine is at present (March 2001) approved for use in organ transplantation to prevent graft rejection in kidney, liver, heart, lung and combined heart-lung transplants. It is used to prevent rejection following bone marrow transplantation and in the prophylaxis of host-versus-graft disease. It is also used in the treatment of psoriasis, atopic dermatitis, rheumatoid arthritis and nephrotic syndrome.
Why was the discovery of cyclosporine so important?
Discovery of immunosuppression by cyclosporine in 1976 is attributed to J. F. Borel (Fig. 5). In 1983 cyclosporine was approved for clinical use to prevent graft rejection in transplantation. Most of the surgical problems of allograft transplantation had already been solved by this time.
Since 1961 the standard method of achieving immunosuppression had been a combination of azathioprine and corticosteroids. Azathioprine inhibits cell proliferation non-selectively. Its main unwanted side effect is depression of the bone marrow, other toxic effects include increased susceptibility to infections, a mild hepatotoxicity, skin eruptions, nausea and vomiting. Corticosteroids inhibit T lymphocytes and have an anti-inflammatory effect. Side effects include diabetes, avascular necrosis of bones and increased tendency to infections [2].
Cyclosporine was the strongest immunosuppressor to be discovered at the time; it also overcame many of the risk factors associated with azathioprine and is relatively non-toxic to bone marrow. With the introduction of cyclosporine patient morbidity fell. It became possible to transplant organs with a one year success rate 20% higher than previously [3], and to transplant organs successfully which previously had only been done in experimentation: the heart, the liver, the lung and combined heart lung transplants [4].
As well as transplantation, cyclosporine has been used in most autoimmune diseases. In the 1980's experimental treatment with cyclosporine of insulin-dependent diabetes mellitus, inflammatory bowel disease, chronic asthma, atopic dermatitis, aplastic anaemia and psoriasis supported evidence of their T cell mediated nature [5].
The discovery of cyclosporine
Discovery of an anti-fungal antibiotic. A tradition established as part of a programme set up in 1957 to search for new antibiotic drugs from fungal metabolites was for Sandoz employees on business trips and holidays to take plastic bags with them for collecting soil samples that were catalogued and later screened. In March 1970 in the Microbiology Department at Sandoz Ltd. (Basel), a Swiss pharmaceutical company, the fungus Tolypocladium inflatum Gams (Fig. 1) was isolated by B. Thiele from two soil samples, the first from Wisconsin, USA and the second from the Hardanger Vidda in Norway. These soil samples had been collected by Sandoz employees.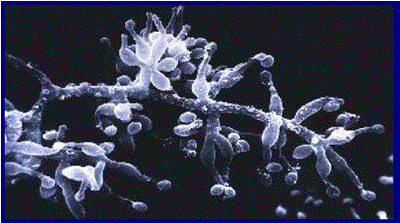 Fig. 1. Scanning electron micrograph of Tolypocladium inflatum
The Microbiology Department at Sandoz had developed a computer-aided evaluation programme for screening and evaluating sampled fungi [6].The programme enabled rapid evaluation of the samples, recognising and eliminating common fungi, and related strains, that produced known compounds from further study. This meant that more time could be spent evaluating the rare fungi in the samples, which would be more likely to produce metabolites that had potential new antibiotic activity. The programme identified Tolypocladium inflatum; it was previously unknown to the Sandoz team and produced interesting metabolites.
Next, Z.L. Kis routinely isolated a metabolite mixture from Tolypocladium inflatum. The characteristics were fed into another computer program based on an exhaustive file of data extracted from the literature [6] and showed the presence of a group of metabolites, which were new to Sandoz. These metabolites were found to possess sufficient antifungal activity to warrant further attention.
For further investigation larger samples were required. Tolypocladium inflatum was cultivated in a fermenter and a technique for the isolation of two of the metabolites later named cyclosporine A and C was developed [7]. Samples were produced in submerged culture and extracted by organic solvents. M. Dreyfuss and colleagues examined the antibacterial and anti-fungal activity of cyclosporine A and C. They were found to have only a narrow spectrum of activity against fungi, and no antibacterial activity was found.
Only a few species of yeast were found to be sensitive to the metabolites. When grown in solid media and in contact with cyclosporine the growth rates of the sensitive species was decreased. Strains of some Mucorales, ascomycetes and fungi imperfecti showed sensitivity to variable degrees, the inhibition taking the form of deformation and branching of growing hyphal tips. There was no effect on germination of spores or conidia of the affected fungi.
By analysing and comparing the taxonomic positions of sensitive organisms, Dreyfuss and colleagues hypothesised that the mode of anti-fungal action was due to an inhibition of cell wall synthesis, in particular chitin synthesis. Cyclosporine activity was compared to the only known chitin blocking antibiotic Polyoxin, which exhibited a similarly narrow spectrum to that observed in cyclosporine [7].
An anti-fungal drug that inhibited cell wall synthesis would have been a useful discovery, as it would have high specificity and low toxicity to non-fungal hosts, similar to the indispensable group of β-lactam antibiotics. However, cyclosporine was found to be inactive against Sporobolomyces roseus and Sporobolomyces antarcticus ( Table 1).This indicated a different mode of action for the cyclosporines.
Table 1. Extent of inhibition zones in fungal growth (measured in mm) caused by some antifungal agents
Organism
Polyoxin A
cyclosporine A
C
Neurospora crassa
Neurospora crassa 'slime' mutant
0
Rhodotorula rubra
Sporobolomyces roseus
Sporobolomyces antarcticus